An NM Differentiator: Getting Paid While Giving Back to the Community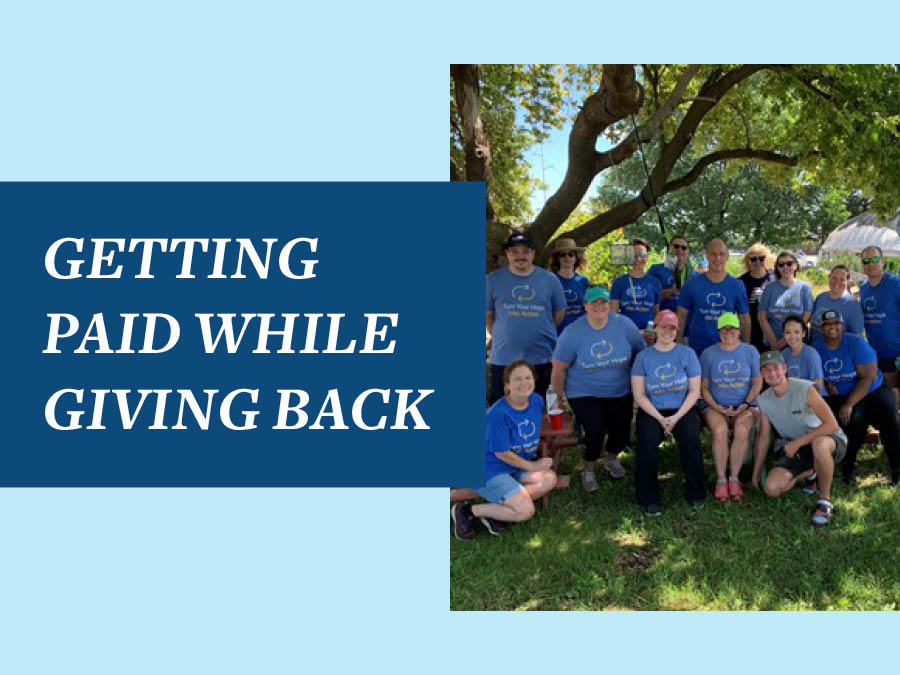 Last year, Northwestern Mutual employees spent 32,000 hours volunteering in more than 350 group activities, walks, runs, rides, drives and collections for local nonprofits. One of those employees is Lucy Happ, Software Engineer at Northwestern Mutual. "A few years ago, like many of us, I was experiencing a Covid slump," Lucy said. 
"I wasn't socializing, I wasn't being active, and I wasn't getting outside. I knew I needed to do something to get me out of my funk, and volunteering kept popping into my head as something that could help." 
Lucy searched online for local volunteer opportunities within the Milwaukee community and came across an urban farm that provides fresh produce to a local food pantry. She spent that summer outside gardening, making friends, and supporting a cause she was truly passionate about.  

Northwestern Mutual recognizes the benefits volunteering has on both employees and the community, which is why we provide up to 16 hours of volunteering time off – two fully paid workdays – so that employees can give back to their community.   
"We are the rare company where employees can pursue their passion for volunteering while getting paid," Lucy said. "Volunteering at the farm has been one of the best choices I've made in my life and last year, I was able to spend two days helping to grow organic produce to feed others instead of writing code." 
In addition to gardening using her Volunteer Time Off, Lucy realized she could amplify her impact by recruiting the help of Northwestern Mutual employees through NM Neighbors, an internal platform for employees to create or find volunteer opportunities.  Through this, she was able to engage 100 volunteers within Northwestern Mutual – 50 to help on the farm and another 50 to support a Hack for Good event, resulting in 865 total service hours for the community. 
"I am incredibly grateful to work at a company that shares my outlook on volunteering and that has invested in my wellbeing as well as the betterment of the community," Lucy said. "Having the opportunity to incorporate my passions outside of work into my day job has been one of the many highlights of working at Northwestern Mutual."  
For more information, visit our Flexibility & Balance page.