From Challenging to Championing: How to grow employees and advance careers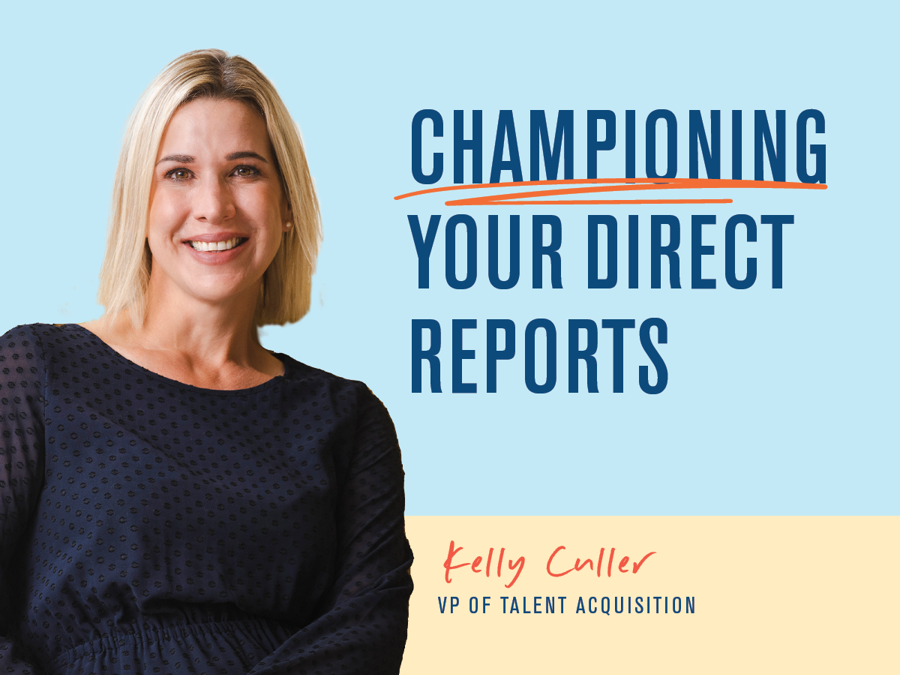 "I'm here. But you can do it." 
 I try to offer reassurance firmly from the edge of the pool. Many of us won't take the plunge if conditions aren't perfect. The unknown is too big. Having someone who believes in you like no one ever has feels scary. But my leadership style has always been to push people to jump into the deep end, trusting that they'll figure it out.  
It's something I learned the hard way. Earlier in my career, I had a boss offer me a role that involved responsibilities unlike any of my previous experience. I looked at him, stunned. I hesitated. I fretted and focused on what I didn't know. I lacked confidence because I had never tried anything that far out of my comfort zone. I wasn't willing to dive in and so I didn't.  
 I regretted not having the courage. The point isn't whether you can swim to the edge or can only tread water for 15 seconds, it's about learning opportunities and strengthening our skills in the present for future opportunities. 
 As leaders, these decisions can come at great personal risk to us. Leaders don't take the risk because they are worried about the person drowning and how that may reflect on the leader. 
 Being a leader who's willing to challenge is being a leader who is willing to champion. And along the way, you will learn more, do more, be more. In seeking out challenges for our people rather than leaving their careers to chance, here's what I recommend: 
Be intentional in identifying stretch assignments  
Our job descriptions are a reliable structure for knowing what we're responsible for. But their relevance is also limited. Business priorities change. Team compositions change. Marketplace trends change. The constant possibility of change is where agility is an asset.  
 When we rely on job descriptions to tell us we can be capable of, it's easy to lose focus of what we are capable of. Empowering your people to take on stretch assignments, additional projects outside of their typical project scope, can help them get a feel for other roles or identify new career paths. Think through the needs of your function, what are you driving to and where does that intersect with your colleague's skills.  
 A few years ago, I asked a member of my team to lead our social media strategy – something she had no experience doing. I saw her potential and I knew she would challenge herself to figure it out. Later when recounting, she noted she was afraid but also motivated by the trust I placed in her. The result was an amazing draft which became our strategy. She may have seen this as a chance, but ultimately capitalized on a choice to dive in and figure it out.  
 That's what leaders need to encourage, not that any deliverable or plan is perfect. Instead, we promote opportunities for our people to think critically, master their own fears and demonstrate the ability to pivot to meet the business need. These are the building blocks of a great career. 
Amplify their narrative 
Stretch assignments can introduce us to new possibilities, but it's how we understand the value of our skills that provides the most impact. Helping your people to make connections and articulate their ability to deliver in a role or assignment is critical. Our experience and skills are currency that we accumulate and ultimately trade as we work toward different roles. We need to always know and believe in the worth of our currency.  
 At Northwestern Mutual, we want our people to feel connected to our ever-present career options. We empower talent to pursue new roles and teams internally as they build a fulfilling career for themselves. Supporting our employees in their growth and development and helping to identify career paths is a critical component for employee retention.  
 To connect talent to opportunities, we launched a focused effort to source our current employees for open roles. By encouraging our employees to share their career skills, interests and experiences, recruiters can source and make employees aware of new internal positions that align with their career goals. It's how we deliver on our promises as an employer and as people leaders.