Mental health matters: Two employees share their stories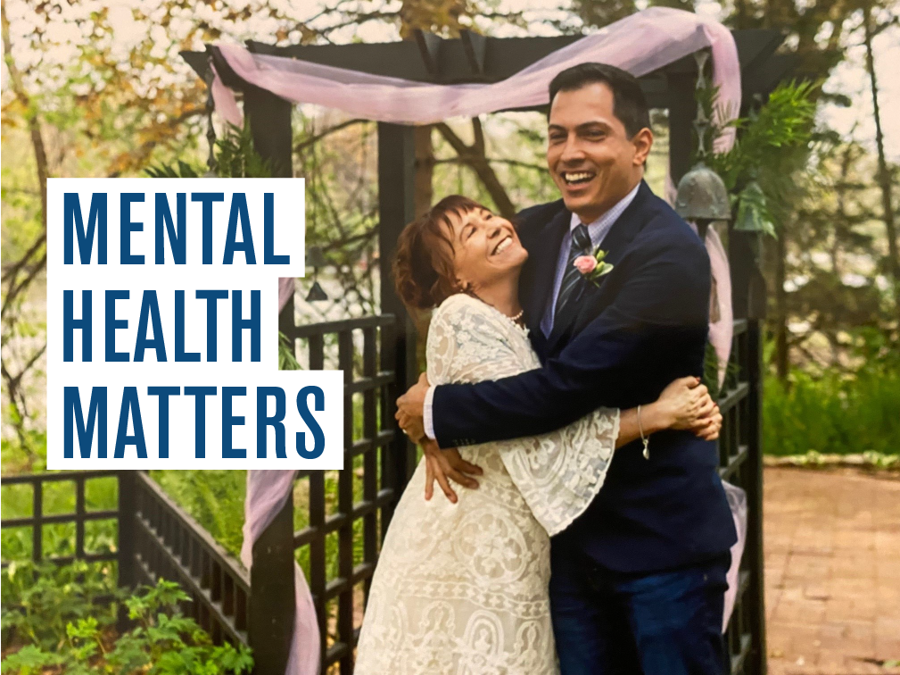 Stress. Anxiety. Burnout. We all have a lot going on and a lot weighing on us all the time. And most of us bring that with us to work every day. As a workplace that encourages people to bring their whole selves to work, we understand that also means we need to support them as a whole – stress, anxiety, burnout and all.
That's why we believe it's critical to support and empower our employees to prioritize their mental health and provide resources to help them do so. From virtual therapy platforms like Talkspace and BetterHelp to more traditional in person therapy, we are working to provide different options for our employees to address their own mental health.
This is how two Northwestern Mutual employees, Laura and Jane, have used our mental health benefits to overcome and cope with family challenges, stressful life changes and more.
Learning to live with big changes: Laura's LifeMatters story
Like many of us, Laura felt overwhelmed with the many unexpected life changes during the pandemic.
A business program manager in Digital Product Field Engagement, Laura found herself homeschooling her teenage son who has ADHD, juggling working from home, and welcoming Diego, her then fiancé who had recently moved to the U.S. from Mexico.
While there were bright spots – like getting married in May 2020 and moving into a new role at NM – the strain was hard on her family, especially between Laura and Diego.
Laura found help and hope in LifeMatters, NM's employee assistance program. Using eight free counseling sessions available through LifeMatters, Laura and Diego worked with a trusted therapist and learned how to improve their communication.
"Couples counseling gave us a toolbox of great resources to use together as we continue our journey," Laura said. "Without those tools, our road would've been far more treacherous."
Laura and Diego have made great progress, and they still see a therapist today through LifeMatters, to stay on track.
"Using LifeMatters has impacted me in the most positive way. I feel so much lighter. I sleep better. I am more engaged in my relationships at work, my relationship with my husband and my relationship with my son," Laura said.
Flexible solutions for a brighter outlook: Jane's Talkspace Story
Jane, manager of software engineering, knows the value of navigating difficult times with the help of counseling. As a former music therapist, Jane holds a special appreciation for therapy and uniquely understands the importance of mental health support.
While she had luck in the past finding in-network doctors for her physical health, in spring 2021, Jane struggled to find affordable mental health options. "We ended up spending a lot of money for out-of-network care," Jane said. "It got to the point where we just couldn't do it anymore."
When searching for alternatives, she remembered hearing about Talkspace. Available to all NM employees for free, Talkspace is a mobile app that offers confidential online therapy. Laura was able to send her therapist unlimited text, video and audio messages and could access one 30-minute video session each month.
Talkspace connected Jane with a trusted therapist – someone with whom she feels comfortable discussing her mental health concerns. Her counselor is responsive, and Jane appreciates how NM was able to connect her with someone who can help whenever and wherever she needs it.
"The option to have a live call is always there, but I love that I can also leave notes at any time in our secure two-way chat room. I can do all of that right from my phone, whether it's at night, I'm on vacation or anything else."
Supporting Your Mental and Emotional Well Being
In addition to online therapy resources, NM also has a full-time on-site behavioral health provider at the Milwaukee campus, who offers both on-site and virtual appointments. It's a service designed to help our people work through emotional or stress related issues, family or job concerns, grief, trauma, and more.
Whether our employees are going through a big life change, experiencing anxiety, or simply would like to talk to someone, NM offers a host of mental health services and programs to support them with whatever they need. We know that mental health is more important than ever, and we're intentional in supporting our people's mental and emotional well-being however we can.