How Northwestern Mutual Supports Working Moms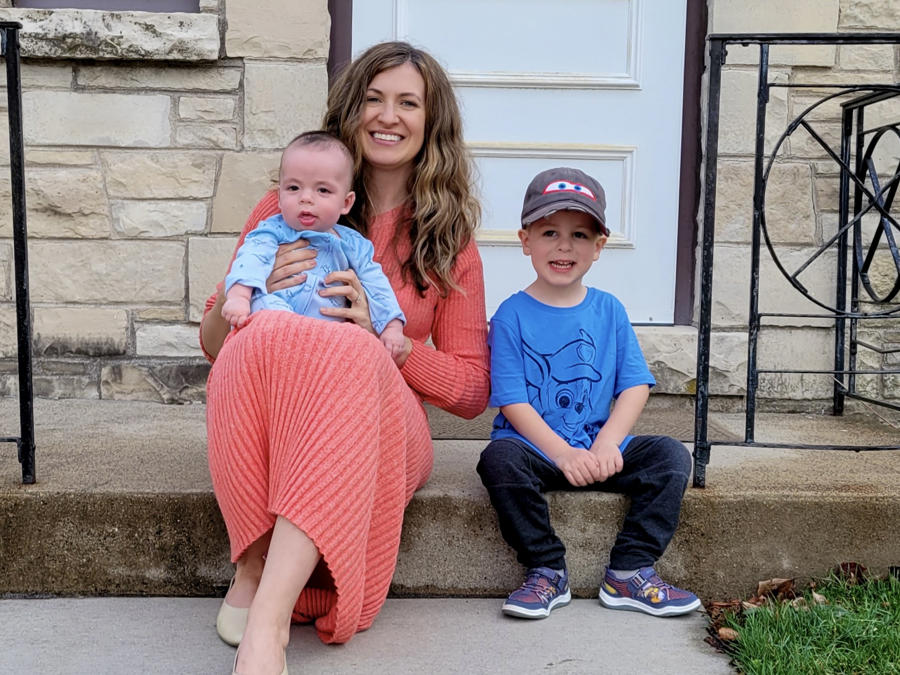 Becoming a parent is a life-changing event. At Northwestern Mutual, not only do we work to enhance the employee experience, but we strive to support our employees' experiences in all aspects of life - including parenthood. Five working moms at Northwestern Mutual reflect on the programs and culture we offer that help them lead fulfilling careers and balanced lives.
On maternity leave
Gina Halverson, Senior Visual Designer
"I was pregnant with my second child, Ben, who we were expecting around Thanksgiving. But in the morning hours of Oct. 14, during a trip to the ER, my doctor decided that it would be best for the health of my baby and myself to deliver immediately.
I texted my manager, letting her know that I would be starting maternity leave six weeks early. She was both understanding and extremely supportive. Because of the complications that arose from Ben's premature birth, he ended up spending five weeks in the NICU. During my 12-week maternity leave, I was able to stay with Ben every day at the hospital and still had time at home to bond with him after he was released.
I feel fortunate I had that time with my son where I could fully focus on being a mom of two during what was one of the most challenging times in my life."
On programs available to new and expecting mothers
Toni Lee, Manager of Identity and Access Management Engineering
"The mother's room, for nursing moms, is an amazing benefit that Northwestern Mutual offers. The room is equipped with a refrigerator, sink, microwave, and storage areas for pumping equipment. They definitely took time to create a comfortable environment for those nursing by offering amenities, nice seating, and equipment in case you can't bring in your own. It's one of the many ways this company shows its commitment to supporting working mothers."
On returning to work
Nicole Schultz, Assistant Director of Systems Software Engineering
"I was in a director position when I had my second child. When I returned from maternity leave, I felt like I prepped myself to get back in that mindset and I was excited. I came back and my manager was like, here are some things you could do. It was all up to me how fast or how slow I wanted to jump back in.
Then two months after returning from leave, my manager, who was a senior director, took a 12-week paternity leave. It was just nice to see not only a father taking the full 12 weeks, but also to see a leader at that level. It makes you feel so much more supported when you see senior leaders taking the same benefits."
On balancing motherhood and a career
Erin Boyd, Campaigns and Content Lead
"As a working mom, there's sort of this internal struggle where you want to be able to give it your all to both sides, the personal and the professional. I really cherish the fact that if I need to leave to pick up my kids, for whatever reason, that's not going to reflect poorly on me by any means. In fact, it's encouraged. At Northwestern Mutual I've been able to find that healthy balance of being a present parent and being able to focus on driving my career forward."
On feeling encouraged by leadership
Julia Smith, Assistant Director of Learning Experience
"I knew early on that I was not going to get these years back with my son, and that the years will go by quickly. My colleagues supported me in establishing healthy work boundaries. Hearing that validation from women, especially our senior leaders who have children and stressed the importance of making time for your kids, was very inspiring to me. Not only did I get great tips from our women leaders, but I am always reminded that 'yes, I can be a mom and I can be a senior leader. I can be a mom and I can do great things in my career.
Historically the workplace has not been designed for working mothers to excel and climb the ladder, but at Northwestern Mutual, you have choices in your career. If you choose to be mom, you can still have a very fulfilling career."
Seeing and Supporting Mothers
We strive to support our people at every stage of their journey toward parenthood. Northwestern Mutual offers 12 weeks of 100% paid parental leave, so our people can take time to care for their newborn, adopted or foster child.
We also partner with two fertility-health platforms to provide an array of family-inclusive benefits. Through this, employees are eligible for personalized ovulation and cycle predictions, a daily fertility score and expert research.
For employees struggling to conceive, Northwestern Mutual offers comprehensive treatment coverage with the latest technologies and treatments, access to fertility specialists, and personalized support from a dedicated Patient Care Advocate. We also provide up to $10,000 to help defray costs related to adoption or surrogacy expenses.
For more information, check out our Flexibility & Balance page.