Rapid Changes In Technology Bring Benefits To Northwestern Mutual's Corporate Archivist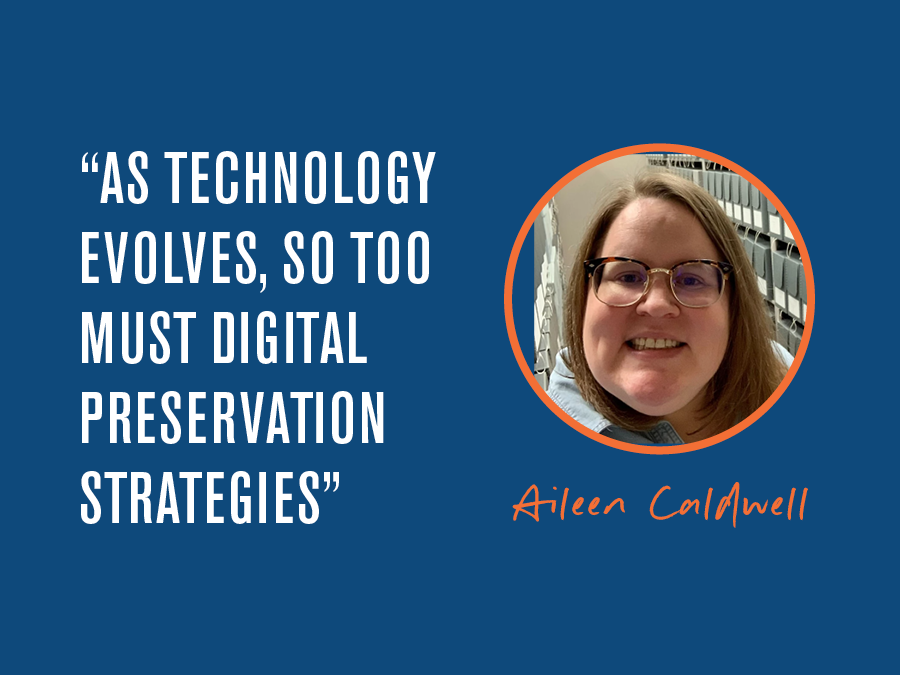 While many companies keep artifacts in storage or elect to display them in an out-of-the-way room, at Northwestern Mutual, we do things a little differently.
The company's history – which started when John C. Johnston launched the firm known as Mutual Life of Wisconsin in 1857 -- is easily accessible within the Northwestern Mutual Experience, a museum on the first floor of the downtown Milwaukee campus. It's a high-ceilinged, welcoming space featuring things like a wooden machine with seven automated pens used to sign checks, magazine advertisements and even a life preserver from the ill-fated freighter SS Edmund Fitzgerald, named after a Northwestern Mutual president. And it's all open to the public.
In charge of that room is Senior Specialist - Archives and Heritage Communications Aileen Caldwell. Armed with a master's degree in library and information science from Kent State, she has managed NM's physical and digital materials covering over 166 years since she was hired a in 2022.
Rapid changes in technology have made her work more efficient.
"Technology certainly helps me complete requests for historical information," Caldwell said. "I can do research on specific network offices, product types and people in order to complete requests."
But at the same time, these changes can make her job harder. Consider this: The NM archives contains CDs, audio cassette tapes, VHS tapes, DVDs, floppy disks, Zip drive disks, reel-to-reel films, mini digital videocassettes, phonograph records and other forms of media.
"How do I access a WordPerfect document from 1993 that is stored on a 3 ½ inch floppy disk?" Caldwell noted. "I can't access the document without specialized extra equipment for my computer. And then if I do get access to that data, is it even going to be readable?" Archivists are working to solve these issues, and Caldwell is working on a plan for the NM Archives.
Caldwell also has to look to the future. How does she preserve today's data so that a future archivist can make use of it in 2053?
"As technology evolves, so too must digital preservation strategies," said Caldwell, who pointed out that about 90 percent of NM's archive has not been digitized. "The archives contain a variety of materials that were born digital -- like PDFs, Word documents and photographs -- that need to be preserved and made accessible for the future."
As the archives is a unique area at NM, Caldwell often explains to NM employees that it's not just a static collection of "old stuff" -- she adds materials regularly, from advertising to decks to memorabilia, and she accepts donations of project and team documentation, manuals, event photos and other current materials that tell the story of NM today.
Why did she become a corporate archivist?
"I have always loved history," said Caldwell. "And I learn something new every day. Every request I get or project I work on teaches me both something new about the history of NM and then how those NM-specific events are situated within the wider culture of the time."
Caldwell has been delighted by how much material NM possesses from the first decades of the company's history.
"Someone over 100 years ago saw the value in keeping these documents and made sure they were preserved," she said. "I hope someone in 100 years feels the same way about the materials I'm adding to the archives today."
Business history does not get much attention, but it has shaped the country. Think of the impact of, say, Ford's cars or IBM's computers on the day-to-day life of millions of people over the decades. Fortunately, thanks to Caldwell's ability to process, arrange and explain a slew of materials, the exciting story of NM can be told for years to come.